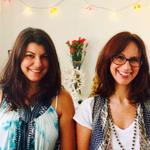 Monthly Relaxation Class
From January 2018, we will be running a monthly relaxation class. It will be held on the 3rd Friday of every month.
** secure your place at www.bookwhen.com/theshantisessions **
When you relax, an alpha brainwave state increases. Did you know that 10 - 20 minutes of conscious relaxation can
clear the negative effects of stress
Regulate your heart rhythm and slow down your metabolic rate
Stimulate your immune system and may improve many serious conditions
Increases your learning capacity and power of creative thought
Makes you feel at peace with yourself and able to take on the world.
Style: Dru Yoga
Ability level: All abilities
Cost: 10.00 GBP (Pound Sterling)

Schedule
Friday: 7 p.m. - 8:30 p.m.

Location
Croston Methodist Church Hall,
9 Westhead Road, Croston, England, PR26 9RQ, United Kingdom
View map full screen
Last updated Jan. 31, 2018, 2:15 p.m. UTC
Shanti Sessions
Claire and Claire met whilst completing their 200hr Yoga Teacher Training course in 2010. Together they wanted to share a nourishing style of yoga for busy people to take time to re-connect with themselves. Their classes incorporate flowing movements and postures, with breath awareness, sacred sound, deep relaxation, and meditation.
We invite you to create some space in your busy lives "to be" and to nourish mind, body, and soul.
What we offer?
Gentle Yoga for all abilities and levels of experience
Pregnancy Yoga
Active Birthing Workshops
Mini-day Retreats
Claire and Claire aim to create classes that are friendly, welcoming and fun, with a positive approach to health and well-being
Om shanti
Qualifications:
Yoga Alliance (RYT - 200)
Phone:
07826849626 / 07984553465
Private teaching available