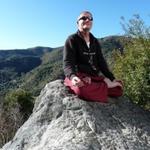 Bootcamp for the Soul

Yogatone...yoga holidays in Andalucia, Spain
Imagine taking some time out from your busy life, hitting the pause button and resting in a warm tranquil oasis of calm.
Only one hour from Malaga, deep in the Andalucian hills and olive groves, the Retreat will provide you with the perfect sanctuary where you can stay and practice yoga, overlooking the stunning mountains close to the Mediterranean.
Our yoga retreat is ideal for your yoga holiday in Spain. Anyone looking for a peaceful time away from the crowds will enjoy the relaxed surroundings and warm hospitality.
Whether you are a complete novice curious to experience yoga for the first time, or an experienced yogi seeking time and space to deepen your practice, your yoga holiday will be tailored to your needs.
The attitude is relaxed, and as far as food and drink are concerned we will leave it up to you as to how much you indulge...
Location
La Casa Del Diare La Alqueria N47,
Comares La Alqueria N47, Andalucia, 29195 Malaga, Spain
View map full screen
Last updated Dec. 1, 2014, 1:01 p.m. UTC
Yogatone
I started teaching part time in 2001 teaching full time in 2003 owning and running my own retreat in Spain with many excellent testimonials see www.yogatone.co.uk.
Since August 2005 and I have been working in the Uk teaching in major health clubs teaching children running my own classes and monthly trips to my Spainish retreat.
I teach a Core Strength Dynamic Yoga. My teachers include David Williams, David Swenson, Lino Miele and many others. People seem to like what I teach as the classes are well attended and a number of people re-visit Spain.
Website:
http://www.yogatone.co.uk/
Qualifications:
IYR (UK) Yoga Register - 500hr, Other recognized yoga teaching qualification
Phone:
07906052542