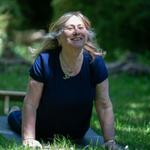 Yoga day with Mary Madhavi @ Woodland Retreat Yoga Centre
A Day spent with Madhavi is a day for you to experience Yoga on a level that is not possible in a 2 hour class. We work harder, breathe deeper and learn more. Each day brings its own challenges, but you will leave calm and refreshed. These days encourage a deeper understanding of Yoga practice. We work to a high standard of Asana (exercise) Pranayama (breathing) and meditational techniques including chanting for all.
Teachers, students and those simply interested in Yoga are welcome.
Location
Bridge Cottage Woodland Retreat Yoga Centre Fidlas Road,
Llanishen, Cardiff , County of Cardiff, cf14 0ne, United Kingdom
View map full screen
Last updated July 11, 2022, 8:28 p.m. UTC
Mary Madhavi
Mary Madhavi is a talented and intuitive yoga teacher. Through her vast experience of Yoga spanning over 45 years she is now internationally renowned. In this time she studied extensively and continuously with her teacher the belated Philip Jones who shared the work of Swami Gitananda. Mary trained with Alan Babbington, becoming an Albion Yoga Teacher, with the Sivananda organisation, is an ATTC, and with the inspirational teacher Swami Indrananda Ji. She has studied widely with the British Wheel of Yoga and now runs seminars for them. Her studies are ongoing with the Bihar School, all this giving her an eclectic and sensitive approach to practice. She is a Craniosacral Therapist, group work facilitator, and counsellor.
Mary is dedicated to sharing Yoga as a way of life and her work encompasses a dynamic and grounded approach to yoga and meditation practices. Her sessions are infused with her loveable personality, joy for life and her warm acceptance of everyone. All aspects of Yoga are encouraged including Dynamic Asana (exercise) relaxation, yoga Nidra, meditation, philosophy and chanting.
After a serious road accident she learnt at first hand the power of Yoga by overcoming her disability against the odds. This has enabled her to inspire and help teachers and students alike to use the amazing power of practical classical Yoga to invigorate their lives, a powerful, transformative and heart opening experience.
Website:
http://www.woodlandretreat.org/
Qualifications:
BWY (Recognised Teaching Certificate), Other recognized yoga teaching qualification, Sivananda Qualification
Phone:
02920482673
Private teaching available